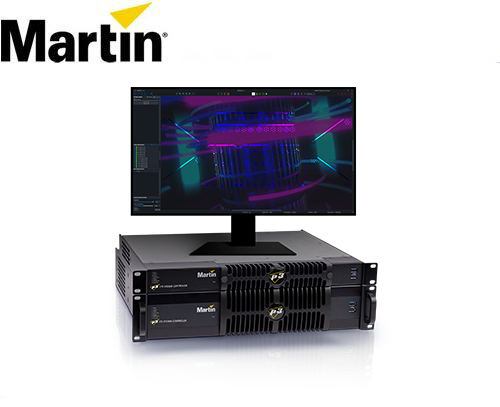 Martin Introduces New P3 System Control Hardware and Significantly Enhanced Software Update
October 24, 2023
NORTHRIDGE, Calif. — HARMAN Professional Solutions, the global leader in audio, video, lighting and control, today introduces its Martin P3-175 and P3-275 System Controllers and P3 Software Update 6.0.0. Martin's latest generation of P3 tools are tuned specifically for Martin fixtures, unveiling limitless potential.
P3 System Controllers offer tight, accurate and full control over P3-enabled fixtures from one central location. Automated mapping, scaling, configuring, and addressing of fixtures saves time and eliminates the need to address fixtures locally.
The new Martin P3-175 and P3-275 System Controllers support video input up to 4K over HDMI and NDI with significantly increased output-capacity. Real-time previews illustrate how DMX controls and video will be rendered on the fixtures even when using a mix of control methods. The new hardware is fitted with the latest processors to deliver a smooth and responsive user experience.
Integrating with third-party software via the MVR standard, P3 System Controllers are able to import and export industry-standard files eliminating duplicate actions, enabling designs (and patches) to be shared between lighting consoles, CAD programs, visualizers and the Martin P3 ecosystem.
Undergoing major upgrades, the new P3 Software Update 6.0.0 presents an all-new, redesigned, modern interface which is ergonomic, smooth, and responsive with better support for darkened front of house and other performance-monitoring environments. P3 System Controller Software 6.0.0 enables real-time feedback and remote system monitoring empowering system integrators to diagnose problems before they occur.
"We are truly excited to elevate Martin P3 system control with a next-generation update that takes video-mapping of creative LED fixtures to a whole other level," said Wouter Verlinden, Product Manager Creative LED, Lighting and Control. "We were looking for ways to save designers valuable time. Custom content creation simplified with the ability to export a mask of mapped fixtures and the ability to import and export MVR files was just the beginning. We can't wait for everyone to experience the new P3 software enhancements and our newest P3 System Controllers."
Version 6.0.0 of Martin P3 System Controller software is available for the brand new P3-175 and P3-275 System Controllers, but also for the legacy P3-050, P3-150 and P3-300 models, extending those units with all the new features and enhancements. Version 6.0.0 is also available for our P3-PC version, running on any Windows computer and allowing lighting designers to get started easily and for free. It can be used as a basic mapping tool; addressing tool; Art-Net / sACN to P3 bridge; or as a full P3 control solution - mixing lighting controls and video content into fixtures. P3-PC System Controller Software 6.0.0 is now also compatible with Windows 11.
Feature Highlights:
Mix DMX and Video Control - Gives the lighting designer the freedom to create unique looks by entering parameters or by sending content to fixtures to ultimately create the ideal look that the designer envisions.
Time-Saving MVR Integration - Mapping and patches can be exported to third-party lighting consoles, visualizers, and CAD programs. There is no need to re-create a system repeatedly using different software packages.
Remote Addressing and Setting - Eliminates the need to physically access fixtures to address and configure each one locally via the display.
Real-Time Monitoring - Offers a complete view of your entire system to diagnose any issues.
System-wide Synchronization - Deliver perfect performance across the entire system, without visible lag and latency issues.
Live Preview - Visualize results during pre-programming without connecting actual fixtures.
Additional Details and Specifications