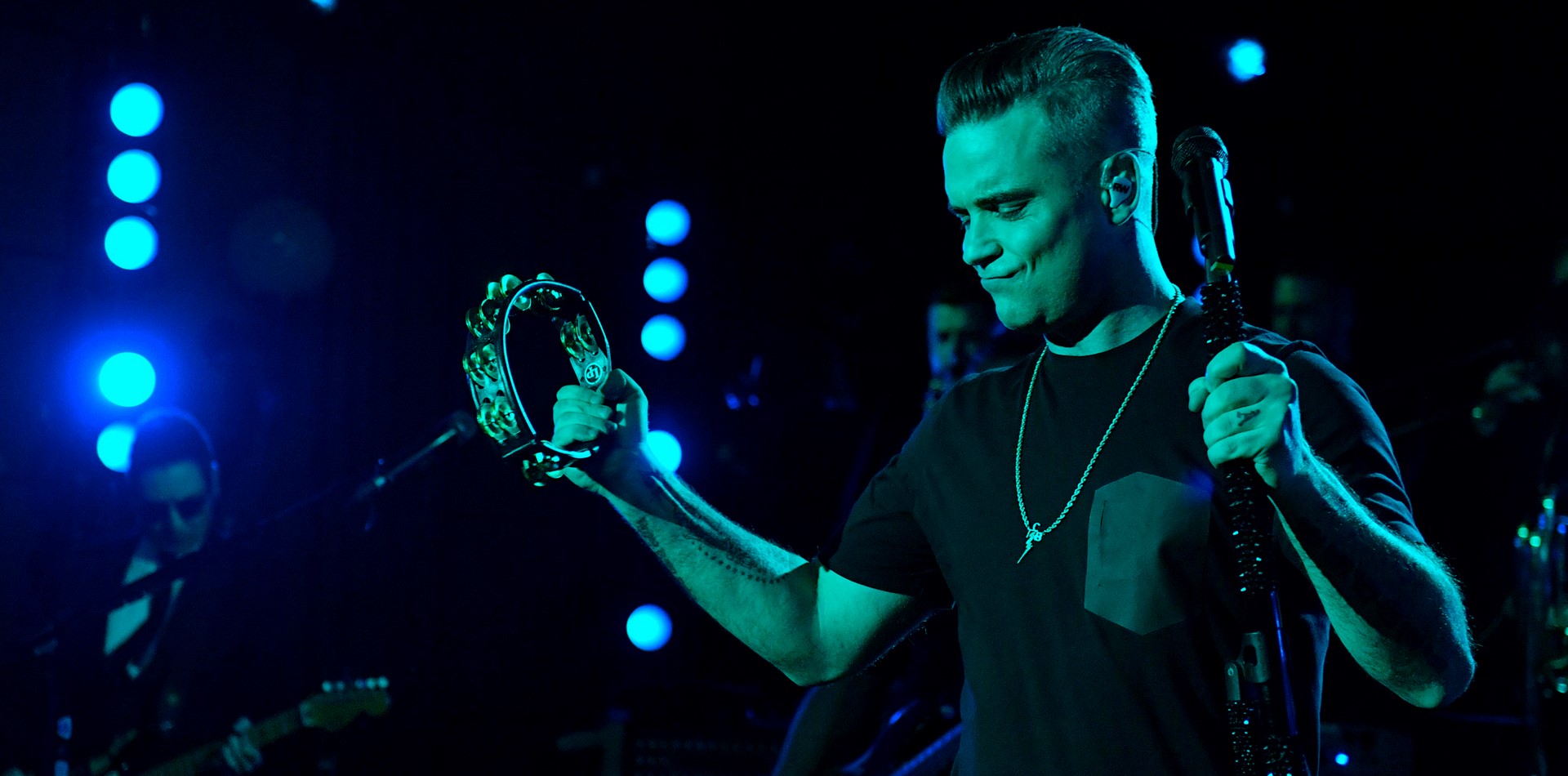 Martin Lighting Solutions Light up the Christmas Season
January 20, 2017
Top Lighting Designers use Martin lighting solutions for major Christmas TV spectaculars
Three leading, and highly influential TV lighting directors have been making extensive use of fixtures from Martin, a HARMAN Professional brand, for their design solutions in the lead-up to the busy Christmas season.
Tim Routledge, Stuart Pring and Oli Richards have all sourced their Martin inventory from Nick Edwards' new TV lighting rental resource, Version 2, deploying mission critical solutions on a number of recent high profile shows. While Routledge was responsible for Gospel Christmas, BBC2's big Christmas Day show, and also recently lit Tom Odell Radio 2 in Concert, Pring handled another Radio 2 in Concert show — this time with Robbie Williams — and also The Brits Critics Choice Awards, for Brit TV. Oli Richards meanwhile, used Martin fixtures on another Christmas Day special, David Walliams Celebrates Dame Shirley Bassey for BBC1, and has also regularly used their industry standard MAC Aura wash lights on Alan Carr Happy Hour for Channel 4.
"Today, there are a number of workhorse products that you know will work fine on a show and Viper and Aura sit in that category," Tim Routledge believes.
Gospel Christmas was recorded at the beautiful St. John at Hackney in front of a live audience, for Christmas Day transmission. "We used a mixture of LED and tungsten sources and kept the venue the star," he said.
Set designer Markus Blee created a stunning printed drape of a palace, which was hung in front of the black drapes and lit like the rest of the room to make it feel like it was part of the church. This was all uplit with Mac Aura XB [wash lights] and RUSH Pars. The designer had earlier used MAC Auras and MAC Vipers at BBC's historic Maida Vale Studios for lighting Tom Odell, in a set dominated by Birdies. Between the gaps, MAC Auras were used to backlight the band and uplight the walls and a MAC Viper was used as a floor backlight to Tom on the piano. "We were thrilled with the look of the show."
"The Vipers have been prominent in our work such as The X Factor and Ball And Boe ITV Music Special, and function especially well as a TV keylight. In addition, they have become a standard for mid-range moving spots."
Tim Routledge also regularly turns to the Aura XB, which he describes as "a great punchy fixture which has become part of an LD's toolkit. Coupled with the RUSH Par that Version 2 also has in its inventory, we are able to dial in and match up colours really nicely."
Another veteran of Martin lighting solutions, Stuart Pring's first port of call is generally the MAC Aura, describing it as "the best colour wash available." However, it was the 'all-in-one' Axiom Hybrid, he used for the Robbie Williams Radio 2 in Concert at Maida Vale's MV3 studio, requisitioning five fixtures to be flown in the rig, five Martin MH3 Beams on the floor with an Aura XB as backlight.
"I was very impressed with how diverse the light was. It worked well as a Beam and a Spot light as well as a great Wash light when zoomed out and defocused. It's compact and light, which was perfect for such a small stage — and to have full colour mixing in a small fixture is also a great bonus."
For the Brits Critics Choice Awards, the LD's aim was to create an organic design that would work for three bands each playing two numbers.
"The Martin fixtures helped me to achieve this through the simple ability to change colour and gobos," he said. Stuart used the Martin RUSH PAR and MAC Viper on the floor around the band, to project colour and animation gobos onto five Dedolight PanAura octagonal soft lights.
"The Martin RUSH Pars were fully zoomed out and focused — one onto each PanAura — to create a colour background. This was a very even light with no hotspot at such a short throw. With such a great zoom they only had to be placed a metre or so away from the PanAuras to get an even colour wash."
On each PanAura from the same distance he placed a MAC Viper, using the rotating gobos, prism and full zoom to fill the silks of the PanAura with gobo textures. Meanwhile, the MAC Aura XB's were rigged on double wind-up stands. "These worked great as backlights for each of the band musicians." All the Martin products exceeded expectation in both size and versatility. "The Axioms gave me the ability to create strong gobo looks and by using the prism we could get very wide beams. Also by taking out the gobos we could use these lights as wash lights.
"And with the wide zoom abilities of the MAC Aura XB I knew we would keep [Robbie Williams] covered in backlight while he was moving around the stage."
The fixtures offer great colour saturation and temperature even at lower dimmer values, he adds. "One feature that really stands out is that the LEDs don't strobe when used with non-broadcast cameras, whereas other products create huge strobing problems on camera."
Finally, a third LD, Oli Richards has also been lighting Alan Carr's Happy Hour for Channel 4, commencing with Bastille and James Arthur at the Hammersmith Club. He was happy to use Version 2's MAC Aura "almost the only wash light I've used over the last few years" — and MAC Viper Performance, "largely because of the shutters and the fact that it is perfect for lighting sets. In fact I doubt I've lit a show over the past few years that hasn't used MAC Auras or Viper Profiles."
A similar lighting plot was used for the Christmas Eve spectacular, David Walliams Celebrates Dame Shirley Bassey for BBC1 to honour her upcoming 80th birthday.
In summary, Nick Edwards states, "Throughout my career I have been known for identifying workhorses. We have taken a leap of faith with the RUSH MH7 Hybrid, selecting it as our 'Beam' fixture of choice. Demand has certainly outstripped supply and we have not seen these units since their arrival. We are also currently putting the Axiom Hybrid through its 'sea trials', with a view to purchasing in 2017. The unit boasts an impressive output and would come into its own on some of our larger studio productions."
These, he hopes, will emulate what he describes as "the standout fixture of recent years" in the Martin Viper Performance. "This discharge moving light is a versatile workhorse which appears on nearly every lighting plot we see. The unit's superior optics and colour temperature means it reads well to camera."
Another favourite has been the Aura range. "In my opinion this has long established itself as the wash light of choice for TV lighting directors; the Aura XB, with its even brighter output, now makes the HMI wash lights often surplus to requirements — and with no lamps to change it expedites our return on investment."