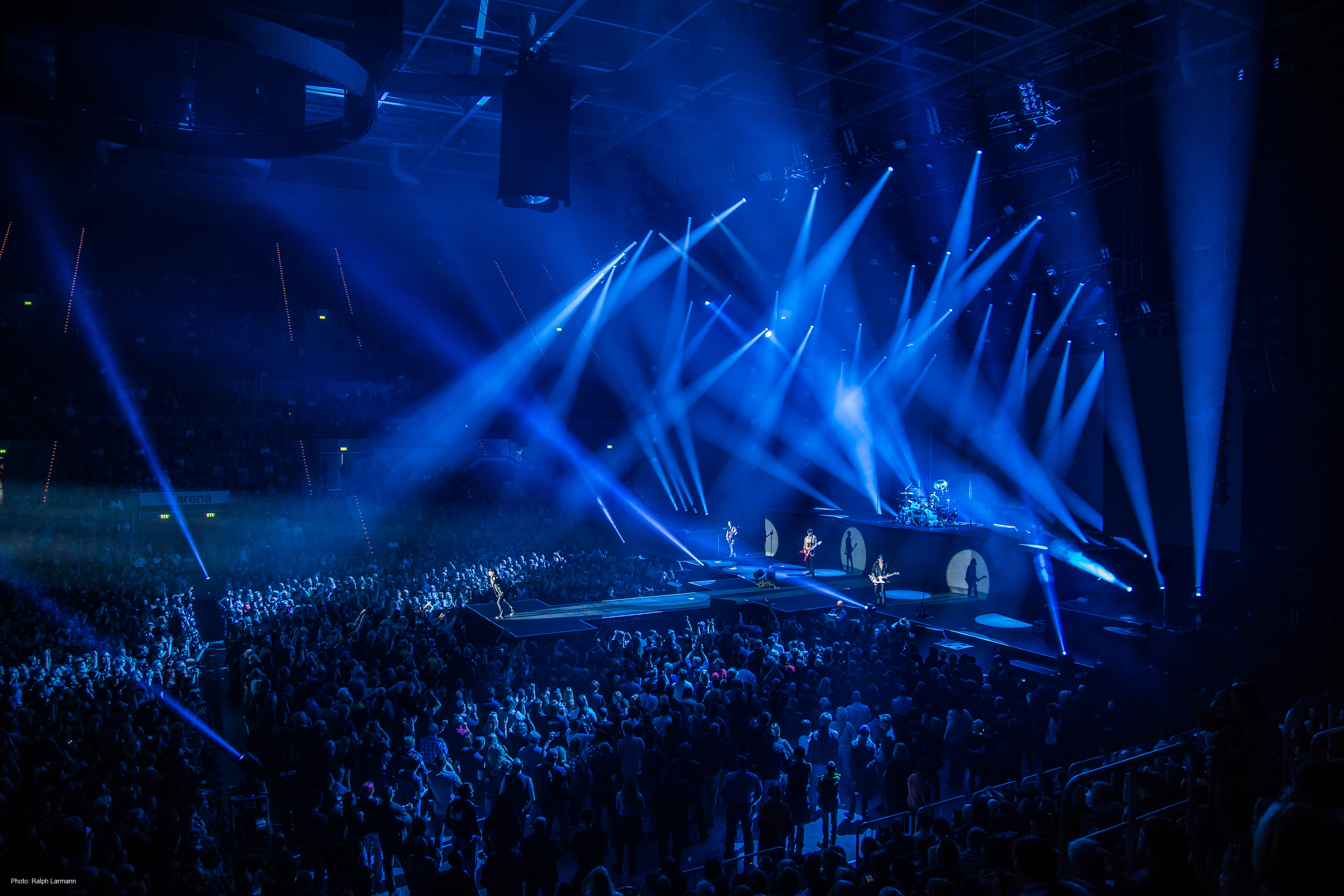 Martin Shines on Scorpions 50th Anniversary World Tour
April 18, 2017
Legendary German hard rockers Scorpions celebrate their 50th anniversary with their biggest world tour. With 50 MAC Viper Profile, 42 MAC 2000 Wash XB, 20 Atomic 3000 LED and 36 MAC Quantum Wash, Martin are integral fixtures on the lighting trusses on this impressive 3-year world tour.
"Basically, going to a Scorpions concert, people expect a classic rock show" says Manfred Nikitser, Associate Lighting Designer and Lighting Director on the Scorpions tour, outlining the scope of lighting required for this gigantic tour. It translates into big, strong looks with 99% of the key lighting made up by follow spots and effect lighting. Manfred is the young blood injecting new programming ideas into the well-greased touring machine. He was initially hired in on the tour to do the video programming, but soon advanced to lighting director, and was shortly after tasked with designing the entire North American leg of the tour.
Touring worldwide, there's a number of obvious challenges that must be taken into account when designing the lighting; the production team must work with a whole array of different tech providers. "Clearly, on a huge setup such as the Scorpions we work with a lot of rental companies, but still, not all carry identical product lines. What is different from a Scorpions production to others is the fact, that we play worldwide with 100% local equipment."
"Whatever idea I have, I must factor in to only use fixtures I can expect worldwide. That's why I have no doubt specifying the MAC Viper Profile as my main spotlight"
"The MAC Viper Profile is definitely my favorite fixture. It is not too big, not too heavy and has the necessary output and speed this show needs. You just know what you get and the output, weight, speed and size ratio is nothing short of perfect," says Manfred.
As for wash lights, his focus is on output: "I feel like the wash light category has gotten a bit underestimated over the years, but in my designs, wash light is a key element. Generally, the work horses in the show are wash lights since we don't use that many gobos. Colors and chases with their different beam shapes and looks are elements to evoke emotion and I design them to bring the right look to each song. I always specify two of my absolute darlings: the MAC 2000 Wash XB, which is still an amazing fixture after all those years, and the MAC Quantum Wash which totally surprised me when I saw them the first time. The beam is super narrow and sharp, and the output is a blast."
"I was trying different fixtures for my side lighting on ladders, but the MAC Quantum just did the best job"
Topping off the visual impact of the Scorpions show, well any show for that matter, there's no getting around strobes—the ultimate weapon in the lighting toolbox. Manfred's take on strobes is very bold: "With the strobes, I think there is nothing else than the Atomic on the market. I love the high brightness of the Atomic 3000 LED version."
Designing a show, Mr. Nikitser's credo is quality over quantity: "The question is always: what does a show really need to still be authentic? Sometimes, just a few lights are enough. And at the end of the day, whatever ideas you come up with, success or failure always comes down to whether your design harmonizes and interacts with the stage performance and other show elements." And it seems like Manfred's selection of lighting fixtures for this tour was a perfect pick, because according to the press, this is the best Scorpions show ever.
CREDITS:
Show Director: Manfred Nikitser
Lighting Operator: Rainer Becker
Production Director: Olaf Schröter
Production Manager: Roland Beckerle
Concert photos: Ralph Larmann
Portrait photo: René Langer Photography