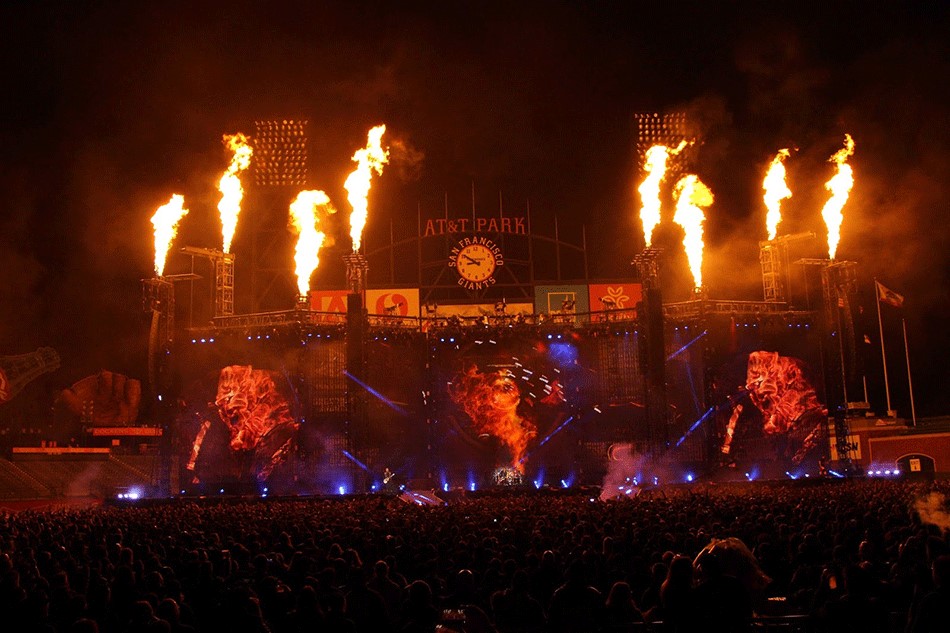 Metallica Turns Up the Live Performance Heat with the Atomic 3000 LED Strobe from Martin by HARMAN
May 24, 2016
New super bright Atomic 3000 LED fixtures from Martin by HARMAN help ignite live show intensity for one of the world's most revered heavy metal acts
Martin by HARMAN's new Atomic™ 3000 LED fixtures are helping illuminate the power and passion Metallica's audiences expect. For more than 30 years, the legendary heavy metal group has been wowing global audiences with their aggressive, fast-tempo music, virtuoso-level musicianship, imaginative album concepts and memorable live show experiences. Inducted into the Rock and Roll Hall of Fame in 2009, Metallica's creativity and influence continue to evolve and drive the thrash metal genre.
"Metallica lighting is meant to be intense," said Rob Koenig, lighting designer and director for Ignition Show Design, who has been working with Metallica since 2008. "The Metallica audience is very important. The band needs to see the audience; their energy is a result of what is being created. It's all very symbiotic. Fans fly in from all over the world to see a Metallica show, so that chemistry is of the utmost importance, and the lighting plays a big part."
Koenig explained that while he likes to use as much new technology in his designs as possible, he has to be careful when using new technology with such a legendary act. He needs to make sure the light looks appropriate for the band.
"For Metallica, there is no better look than a traditional discharge strobe fixture. There are other LED strobes on the market that I might prefer for other artists, but having tried a few of them with Metallica, nothing compares to the Atomic 3000," said Koenig. "Metallica is aggressive, heavy, fast, but at the same time, the music has subtleties. A set list may have 'Battery' followed by 'Unforgiven,' so it's a necessity to use fixtures that can accommodate that kind of velocity and texture."
The Atomic 3000 LED from Martin is the ideal blend of a traditional strobe and cutting-edge LED technology. Capitalizing on the original Atomic 3000 DMX's 15 years of success, this new version features identical functionality and behavior—with the added benefits of LED technology. It offers the same extreme brightness as its iconic predecessor, but with substantially lower peak power consumption.
"I recently used 48 Martin Atomic 3000 LED Strobes for the show at AT&T Park. There's an expectation that a Metallica show is strobe-heavy, which it actually isn't. There are iconic moments, such as during 'One' and 'Creeping Death,' where I can use them, but the key is to reserve the strobes as much as possible," said Koenig. "This brings me to what I enjoy about the Atomic 3000… using the aura to light, the reflector gives me another source for a camera background without contaminating the IMAG."
The Atomic 3000 LED is not just a strobe, but also a creative tool that incorporates backlight illumination with RGB-controlled LEDs pointing into the reflector. It delivers stunning eye-candy looks similar to the MAC Aura and the MAC Quantum Wash. Internal FX macros and simplified reuse of the original Atomic Colors scroller complete the full-feature package and empower the Atomic 3000 LED to become the ultimate creative lighting tool.
"When the Atomic 3000 LED was introduced last year, I was out on tour and got a call from Butch Allen, who formerly LD'd for Metallica," said Koenig. "Butch raved about how awesome the 3000s would be for Metallica. So, trusting Butch, I spec'd them sight unseen for the 2016 AT&T Park Super Bowl show. The first time I lit them up, I was blown away."
Rob Koenig, owner of Ignition Show Design (http://www.ignitionshowdesign.com) is a lighting designer, director and programmer with more than 20 years experience in the industry. His credits include work for Matchbox 20, Deep Purple, Better Than Ezra, Lit, Ministry, Live and Billy Idol, to name a few. Recently, he has been working with Butch Allen as a programmer/LD with Eric Church and as a programmer on Carrie Underwood, New Kids on the Block and The Black Keys. Koenig is also an LD and programmer for Phil Ealy on the Guns N' Roses reunion tour.