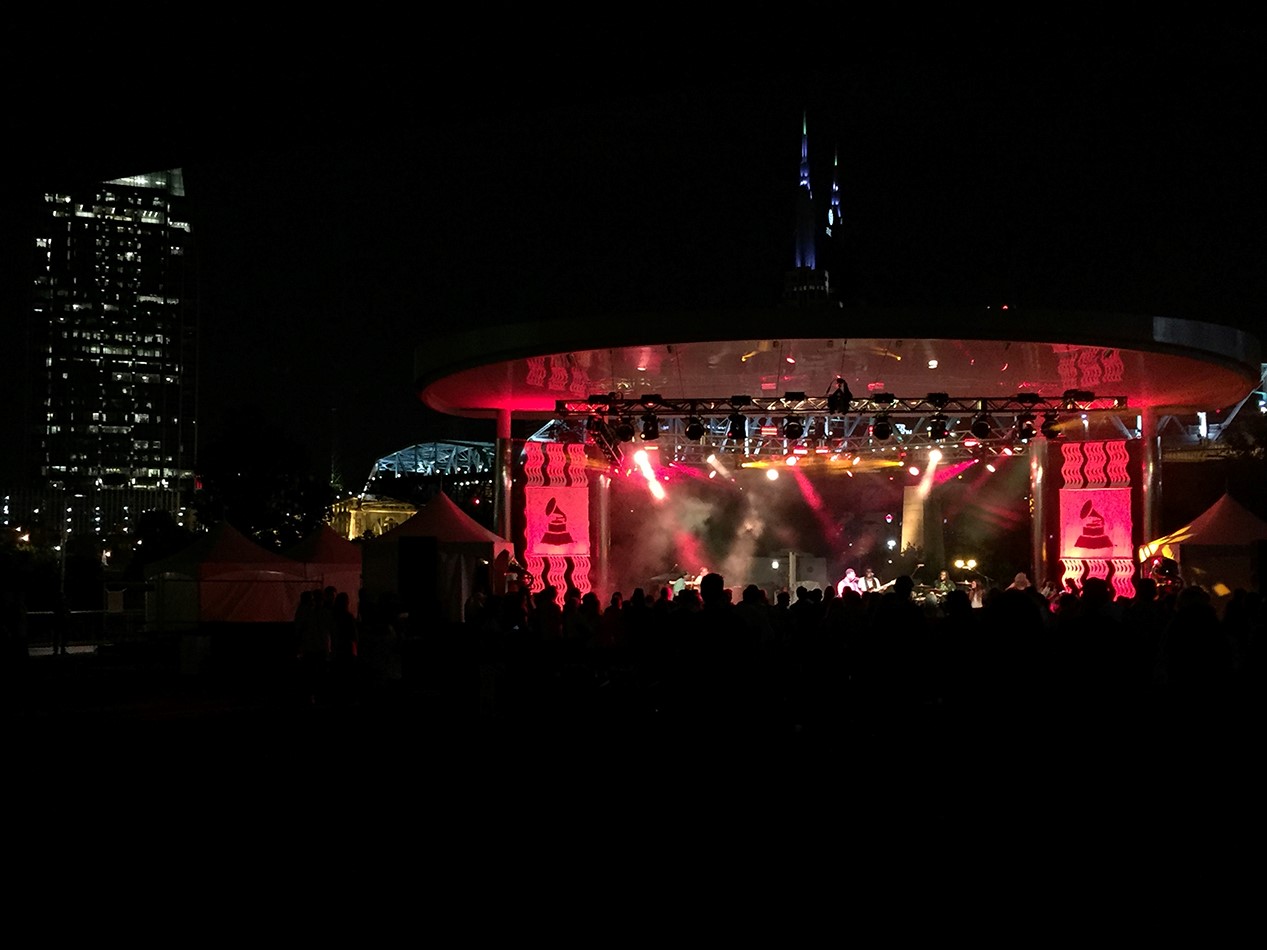 New Super Bright LED Strobe from Martin by HARMAN Helps Deliver Big Punch at 18th Annual GRAMMY Block Party
May 27, 2016
Martin by HARMAN Atomic 3000 LED fixtures deliver perfect blend of traditional strobe performance and leading technology for unique outdoor VIP celebration
The 18th Annual GRAMMY Block Party hosted approximately 1,000 guests this month in Nashville. This special GRAMMY member celebration featured performances by Kelsea Ballerini, Jason Isbell, Jonathan McReynolds, Robert Randolph and a guest performance by GRAMMY U Songwriter Showdown winner, Brad Blackburn. Held outdoors in Cumberland Park, with the Cumberland River as a backdrop, Chris Lisle Lighting Design relied on new Martin by HARMAN Atomic 3000 LED Strobes and classic MAC Auras to create a larger-than-life experience for this important guest list.
"I have always liked the look of the Atomic 3000s in a lighting rig, and I was really excited when Martin came out with an LED version," said Erik Parker, Production Designer, Chris Lisle Lighting Design. "The Atomic 3000 is much more than just a strobe. The built-in, Aura-type effects and macros are huge feature additions."
In addition to being a powerful strobe, the Atomic 3000 LED is also a creative tool that incorporates backlight illumination with RGB-controlled LEDs pointing into the reflector. It delivers stunning looks similar to the MAC Aura and the MAC Quantum Wash. Internal FX macros and simplified reuse of the original Atomic Colors scroller complete the full-feature package, making the Atomic 3000 LED the ultimate creative lighting tool.
For this event, Lisle used six Martin Atomic 3000 LED fixtures and 12 Martin Mac Auras. The Atomic 3000 LEDs were used as powerful strobes to add impact, texture and eye-candy to the stage.
"I needed this show to look as big as possible," said Parker. "I do a lot of lights in groups and fans in my shows to help open the stage up. I also want to light up the venue. This was a completely open-air space in downtown Nashville with a striking river park background that I wanted to showcase."
The MAC Aura is an award-winning wash light that lighting designers have turned to the world over due to its versatility as a powerful beam and wash luminaire of the highest caliber. The result of out-of-the-box creative thinking, it is the first LED moving head wash light to combine multicolor beam LEDs with a backlight LED array that takes the synthetic look out of LED wash lights.
"The Aura is a great fixture as well – I love the different textures I can get from the backlit aura effect. I use it often as a general stage wash, said Parker. "The MAC Aura fixtures are super reliable, a great price and are pure workhorses."
The Martin Atomic 3000 LED is the perfect blend of a traditional strobe and cutting-edge LED technology. Capitalizing on the original Atomic 3000 DMX's 15 years of success, this new version features identical functionality and behavior—with the added benefits of LED technology. It offers the same extreme brightness as its iconic predecessor, but with substantially lower peak power consumption.
"The Atomic 3000 has everything I was looking for in an LED strobe. They're super bright and have a very similar look as the older version Atomic 3000s, which I always liked," added Parker. "Whether it was colors bouncing around or entire units going through a dimmer or color effect, it looked awesome and really helped fill out the space of the rig."
Chris Lisle has more than 25 years experience in the entertainment industry and has worked in a variety of roles, including Production Designer, Lighting Designer, Tour Manager, Production Manager and Show Producer. Some of Chris's present and past clients include Robert Plant, Miranda Lambert, One Republic, Billy Currington, Peter Frampton, Nick Carter, Kenny "Babyface" Edmonds, Chris Young, Jennifer Nettles, Lee Brice, Kip Moore, Nashville Convention and Visitors Bureau, IEBA, Sara Evans, Keith Urban, LeAnn Rimes, Lee Ann Womack, Phil Vassar, The Recording Academy (GRAMMYS) and many others. Chris is the founder of the Touring Career Workshop and also an adjunct instructor at Belmont University, teaching a class on Tour/Production Management.