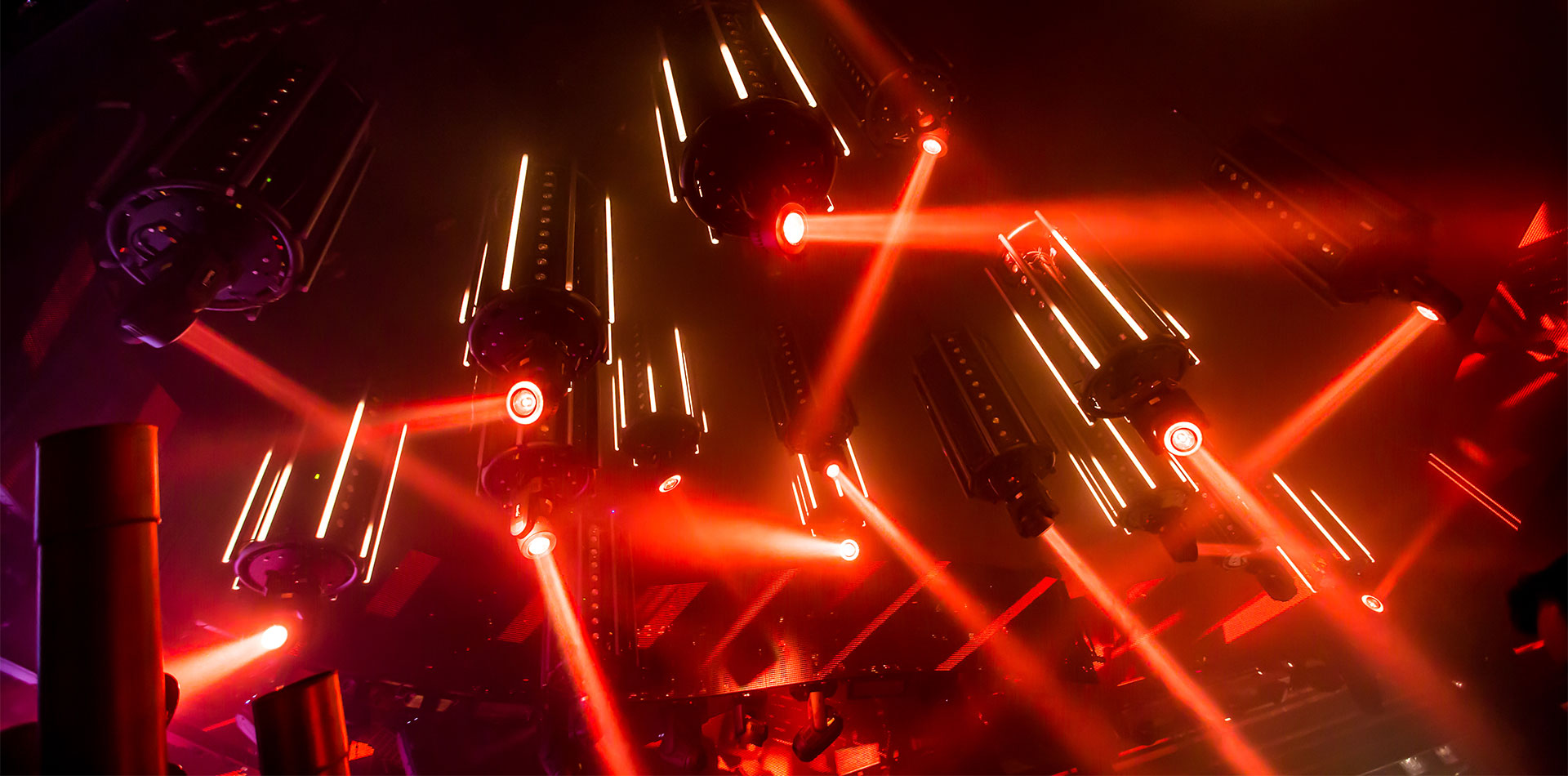 Versuz, Top Belgium Nightclub, Lights Up the Night with HARMAN Professional Solutions
February 26, 2019
HASSELT, Belgium—Fairlight recently equipped Versuz—one of Belgium's leading nightclubs—with a comprehensive array of Martin by HARMAN lighting fixtures to support a full schedule of weekly dance parties and DJ sets.
Versuz is one of Belgium's hottest nightlife venues and consistently ranks among the world's most popular nightclubs in annual polls by premier DJ culture publications. After being forced out of its original location by a city-funded urban redevelopment project, Versuz recently completed renovations to their new 3000-capacity facility, located on the site of the historic Ethias Theater. As part of its commitment to providing an exciting environment to dance and listen to Belgium's hottest DJs, Versuz hired leading integrator Fairlight to equip their new venue with a state-of-the-art lighting solution. Fairlight relied on versatile and powerful lighting fixtures by Martin to deliver an immersive atmosphere with vibrant colors and stunning visuals.
"We're extremely satisfied with the new Martin rig installed by Fairlight—it's perfect for our needs and plays a huge role in creating an immersive atmosphere that stimulates our guests' senses as they dance the night away," said Yves Smolders, General Manager, Versuz. "Working with the Fairlight team was a pleasure, from the very first conversation through the completion of the installation. They displayed a very down-to-earth attitude and delivered the results we wanted without overspending our budget. I look forward to continuing our relationship with Fairlight and Martin for many years to come."
The Martin lighting rig at Versuz includes 24 RUSH MH 10 Beam FX fixtures. A newly released compact 60W moving head fixture, the MH 10 Beam FX features individually-controllable LEDs surrounding a central beam lens, providing a wide variety of visual effects with its unique design. Complementing the MH 10 Beam FX fixtures are 19 RUSH MH 6 Wash fixtures, which offer beautiful single-lens washes with fully premixed color. The installation also includes 22 Atomic 3000 LED fixtures, which provide intense strobe effects, backlight illumination and stunning eye candy looks. Fairlight completed the lighting rig with 192 Martin VDO Sceptron 10 LED video fixtures, which can be integrated with the rest of the lighting rig via traditional DMX control or used for more creative pixel animations with video displays.
"I'm impressed with the new Martin fixtures in our rig," said Nils Berens, Lighting Operator, Versuz. "The RUSH MH 10 Beam FX is especially striking, delivering high-intensity lighting effects with its unique collimator lens design. Its ring of LEDs around the lens offers additional blending possibilities, especially when combined with video fixtures like VDO Sceptron. The VDO Sceptrons are so versatile, we can control them as part of the lighting rig via DMX, or our VJ can utilize their unique pixel animations as part of his video displays. I'm also glad to have the RUSH MH 6 Wash at my disposal—its saturated color mixing and zooming feature makes it a welcome addition to shows at Versuz."
ABOUT HARMAN
HARMAN (harman.com) designs and engineers connected products and solutions for automakers, consumers, and enterprises worldwide, including connected car systems, audio and visual products, enterprise automation solutions; and services supporting the Internet of Things. With leading brands including AKG®, Harman Kardon®, Infinity®, JBL®, Lexicon®, Mark Levinson® and Revel®, HARMAN is admired by audiophiles, musicians and the entertainment venues where they perform around the world. More than 50 million automobiles on the road today are equipped with HARMAN audio and connected car systems. Our software services power billions of mobile devices and systems that are connected, integrated and secure across all platforms, from work and home to car and mobile. HARMAN has a workforce of approximately 30,000 people across the Americas, Europe, and Asia. In March 2017, HARMAN became a wholly-owned subsidiary of Samsung Electronics Co., Ltd.
David Glaubke
Director, Public Relations
HARMAN Professional Solutions
© 2018 HARMAN International Industries, Incorporated. All rights reserved. Harman Kardon, Infinity, JBL, Lexicon and Mark Levinson are trademarks of HARMAN International Industries, Incorporated, registered in the United States and/or other countries. AKG is a trademark of AKG Acoustics GmbH, registered in the United States and/or other countries. Features, specifications and appearance are subject to change without notice.
TAGS: Entertainment, night club