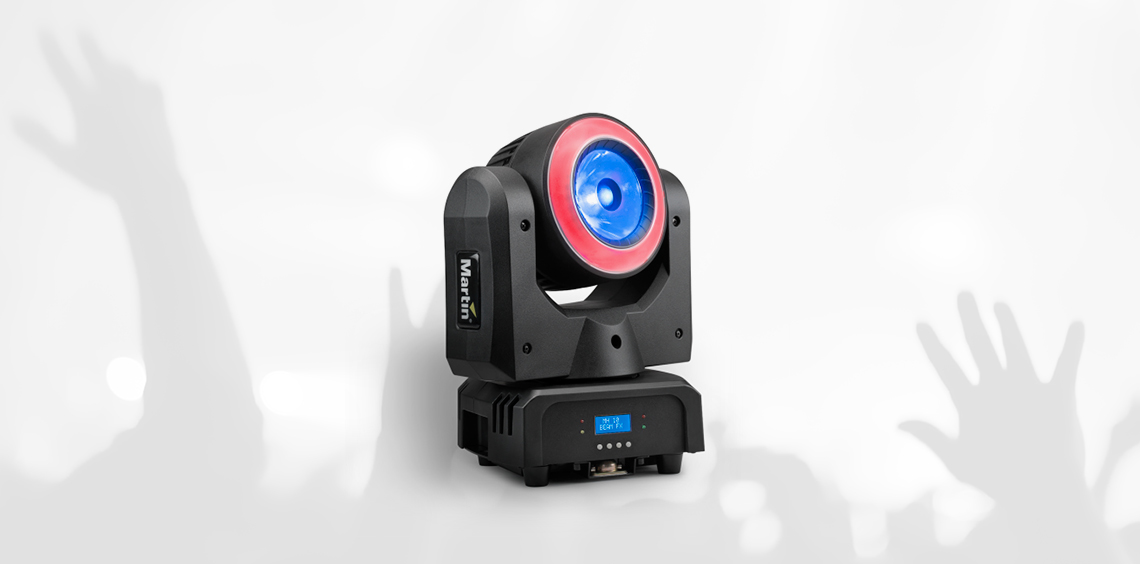 HARMAN Professional Solutions Introduces Cost-Effective Beam Fixture with LED Ring
November 17, 2017
New Martin by HARMAN Moving Head Fixture Offers a Superfast Beam and LED Ring With Individually-Controllable Pixels at an Affordable Price
LDI (Booth #242) – LAS VEGAS – HARMAN Professional Solutions today announced the Martin RUSH MH 10 Beam FX, a compact LED Beam moving head fixture with an independent, built-in LED ring. With 24 individually-controllable LEDs surrounding a central beam lens, the RUSH MH 10 FX offers visual effect possibilities never before available at this price point.
"The beam capabilities of the RUSH MH 10 FX is exactly what our touring, nightlife and house of worship customers have been asking for," says Mark Buss, Product Manager, RUSH for HARMAN Professional Solutions. "The addition of the LED ring provides those lighting designers a new and exciting visual element as well—and at a very attractive price point."
The Martin RUSH MH 10 Beam FX is a compact 60W RGBW LED moving head fixture that offers tight beam effects using a collimator lens design, creating a striking, high-intensity look on stage. The LEDs on the MH 10 Beam blend perfectly with Martin MAC Aura, RUSH MH 6, and RUSH Par 2 fixtures, providing excellent color mixing capabilities. In addition, the LED ring surrounding the central beam utilizes 24 LEDs that are independently controllable for a range of visual effect possibilities.
"The Martin Rush MH10 is a great solution for house of worship, nightlife, cruise ship and touring customers looking for new ways to use lighting as part of a set design," explains Bradley Drummond, Director, Hospitality Solutions and Marketing at HARMAN Professional Solutions. "The LED ring offers a range of new design opportunities, and the continuous pan and tilt and lightweight build also provides a number of interesting rigging possibilities and high-speed looks. With this price and feature set, it's an excellent choice for a range of creative applications."
Additional Details and Availability
HARMAN is showing the Martin RUSH MH 10 Beam FX fixture in Booth #242 at Live Design International (LDI) 2017. For further details, we invite you to visit: LDI