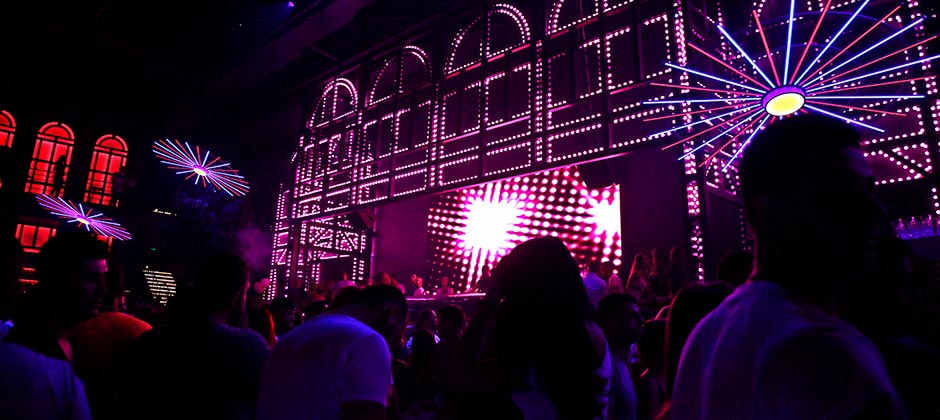 High-profile Albanian club features 5,150 VC-Dots from Martin Professional
September 22, 2015
Albanian Harman distributor, Prosound, headed by Managing Director Kliton Gjika, has just completed a major installation with VC-Dot 1s at nightclub and live music venue, Folie Terrace, in the Albanian capital of Tirana.
After an extensive refurbishment, Folie terrace officially opened to the public in June 2015. With a capacity of 1,500 people, Folie Terrace is the biggest nightclub in Albania. The refurbishment comprises a brand new interior, including a lighting and video solution from Martin Professional and a complete sound system from JBL. One of the club's special features is a retractable roof, which can convert the club into an open space or close it off to contain the noise levels to adhere to downtown Tirana's strict noise ordinances.  
From incandescent to LED
Prosound has been a distributor of Martin Professional products for 6 years and Harman products for 1.5 years. In early 2015, they were contacted by Folie Terrace's owner, Andro Buxhuku, who showed them the initial project drawings. The architect wanted something to emulate city lights, and envisioned an installation with linear dots. The initial project drawings featured 1,000 incandescent lamps with heavy dimmers. Although the Prosound team were excited about the general idea of the design, they anticipated a cabling nightmare and a complicated setup with endless amounts of DMX addresses – not to mention an enormous power consumption.
Therefore, as an alternative to the incandescent light sources, the team suggested Martin's creative LED video dots and immediately set up a test with the VC-Dot 1 fixtures. Both Buxhuku and the architect were thrilled at the prospect of being able to create more advanced effects using the P3-PC System Controller, with the added benefit of RGB colors while drastically reducing power consumption.
Gjika explained why the VC-Dot 1s were chosen for this project:
"We chose these LED dots particularly due to their brightness and low power consumption. They need to be able to stand up against the club lights and other visual elements and they manage perfectly. Secondly, the dots are individually controllable and easy to map and configure."
Folie Terrace's new lighting system
The entire wall behind the DJ/Stage is covered in 5,150 VC-Dot 1s mounted on a wooden frame in the shape of a building facade. The VC-Dots create an outline of windows and a building facade, creating a nice backdrop for the performances on stage and the dance floor. The P3-PC System Controller controls the entire system.
Originally, Prosound wanted to use the VC-Dot 9 Diffuser Spheres but to increase the output a smaller custom-made diffuser sphere was made, which emitted the desired output while at the same time emulating the incandescent light sources.
Apart from the VC-Dots, Folie Terrace has a house rig of eight MAC 101s, eight RUSH MH 4s, eight RUSH MH1s and six RUSH DC 1 Aqua fixtures that simulate the effect of water on the floor at the center of the club – all controlled by the M1.
Adding to the guest experience
Any club owner's greatest concern is to ensure happy customers. Buxhuku talked about how lighting contributes positively to the guest experience at Folie Terrace:  
"It is important for me that the lighting sends a message. It needs to signal exclusivity and it needs to make my customers feel happy and relaxed. To us lighting is just as important as other parts of the interior and it needs to work with the interior to create a cohesive guest experience."
In July 2015, a representative from Martin's Design & Application team travelled to Albania to assist the Prosound team on-site and to train Folie Terrace's staff to achieve optimum advantage of the system's capabilities. Buxhuku said:
"It's great that Martin Professional is part of the post-installation phase as well. When our guys learn all there is to know about the system, we will be able to create more sophisticated and interesting looks. I am sure that our lighting system will become one of the main components in Folie Terrace's visual identity."
Watch this video to learn more about the Folie Terrace installation.

Martin equipment
VC-Dot 1, 5150 pcs.
P3-PC System Controller
RUSH MH 4, 8 pcs.
RUSH MH 1, 8 pcs.
RUSH DC 1 Aqua, 6 pcs.
MAC 101, 8 pcs.
M1, 1 pc.
Credits:
Project Manager: Kliton Gjika
Club owner: Andro Buxhuku
Technical Director: Endrit Veleshnja
Electrical Engineer: Xhoni Naci