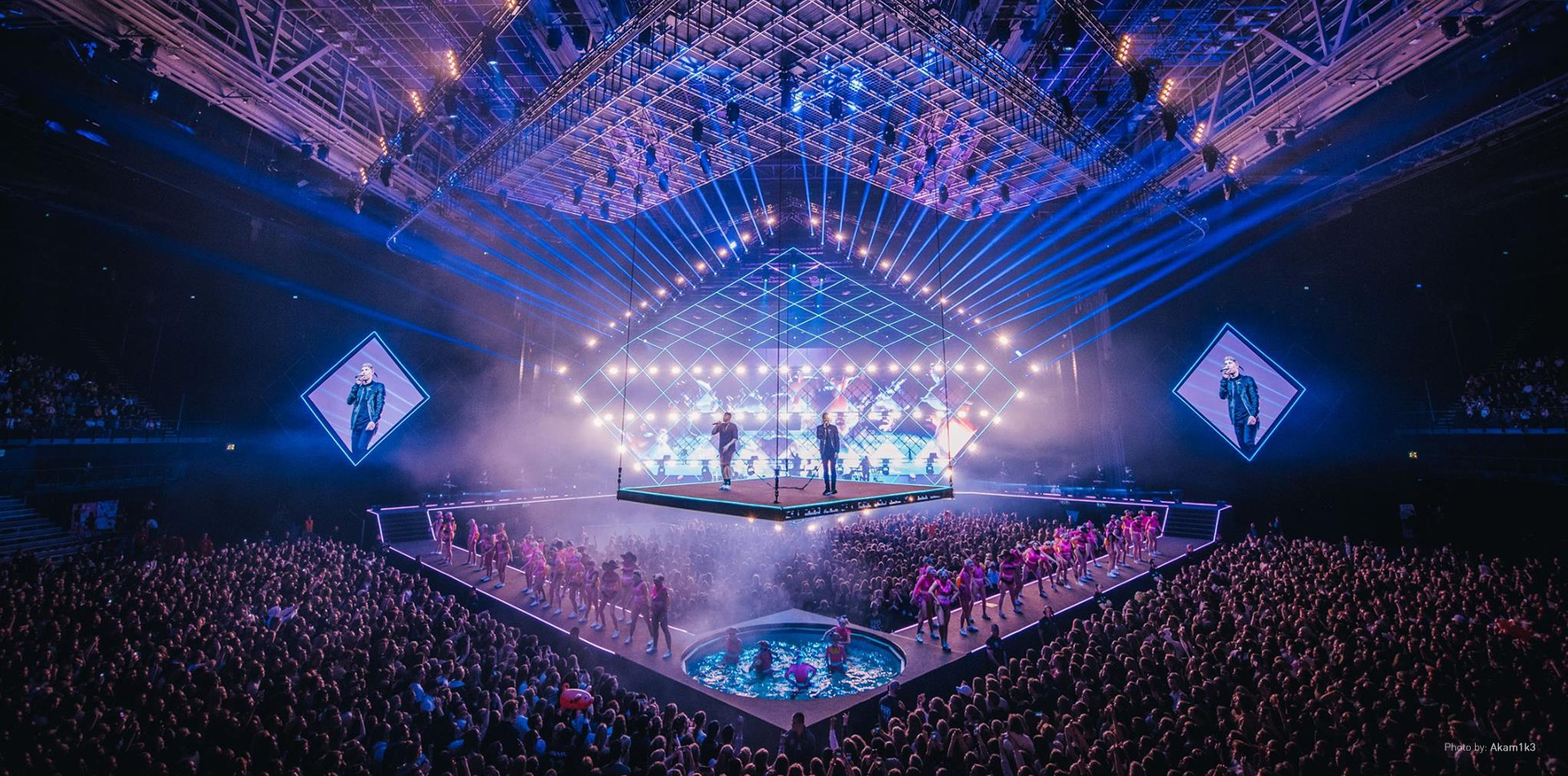 Martin by HARMAN'S Creative VDO Range Flying High in Norway
July 12, 2017
Norwegian pop duo Karpe Diem applies 1,200 Martin by HARMAN VDO fixtures on new tour for exceptional visuals
Increasingly more lighting designers use VDO creative video products to boost drama and amplify the visual expression of performing artists. Pixels, battens and LED panels are embraced for their versatility and ability to engage with audiences and to visualize artwork, statements and trigger crowd response.
"The only thing these guys care about is pulling off the best possible show," said long time Karpe Diem producer and lighting designer, Sebastian Ekeberg. "So for each tour we try to set new standards and bring on an even more spectacular show than last time."
Seven hundred and fifty VDO Sceptron LED video fixtures, 300 VDO Face 5 LED video panels and 150 VDO Dotron video pixels, frame the entire stage design and make up the biggest visual part of the show. This show has broken the national record for stage production extravaganza and has defined a new benchmark in huge tour productions—just like their previous tour did.
VDO SCEPTRONS—THE SIGNATURE OF THE DESIGN
When the Karpe Diem tour hit Norway's capital, Oslo, with three sold out special shows in the 10,000-seat Spektrum Arena, it was the long-awaited reward for a year's hard work preparing the visual expression of the band. "This show has been almost a year in the making, with many meetings with the artist to create the visual expression" said Sebastian. "The Sceptrons are a very essential part of the look. They're used a lot during the show— they're basically the back wall, the roof and the stage floor—really the signature of the design."
Co-lighting designer and operator on this tour, Lars-Morten Larsen adds: "We're using 750 VDO Sceptrons, controlled by Art-Net using the P3 System Controllers with the Green Hippo media server sending content into them. We're mostly sending smooth, looped video clips to soften the edges of the whole grid."
Three hundred VDO Face 5 LED panels ensure that every seat all the way to the back rows get their piece of the action. "On each side of the stage, we have built huge screens out of VDO Face 5 panels that display direct camera feeds from our live production crew mixed with pre-programmed content," said Sebastian. "We chose the Face 5 panels due to their low pixel pitch which gives us a really crisp image."
VDO DOTRON OFF FOR A FLYING START
Karpe Diem and their lighting team love to experiment and are keen to incorporate new elements in their designs. "In this show we introduce several elements that we haven't worked with before—one being 350 m2 of flying stages," said Sebastian. "One of the show's two flying stages was equipped with 150 of the brand new VDO Dotron video pixel to give the stage excitement and visual impact when flying above the audience.
"Weight and power consumption were crucial parameters for the flying stages, so the Dotrons came in really handy because they're very easy to install, and they offer the light output that we need for this purpose—and of course it's just cool to use the latest products," said Lars-Morten.
COMPLEX MAPPING MADE EASY WITH P3
The Face 5 video panels, the Sceptrons, and the new Dotrons, are fully integrable as you can mix and match all products in the VDO range. This offers a welcome efficiency gain as all VDO fixtures can be controlled via the Martin P3 System Controller software. "We use the Sceptrons in different ways," said Lars-Morten. "We are sending video content to them via P3 and we're also using the DMX parameters to control colors and dimmer fader values which enables us to sync the effects to the beat of each song.
PERFECT CALIBRATION
All Martin LED video products are perfectly calibrated for a very specific purpose: When a large number of fixtures are spec'ed for huge tours with multiple rental companies on the tech provider list, you still need a bright and consistent output. Even when old and new units are matched.
"Main tech supplier on these events, Bary AS, gathered the massive amount of Sceptrons and VDO Face 5 panels from different sub-suppliers and from different productions and batches, and what we've experienced is that they actually have totally identical output. There's no need for color correction or calibration on a single tube or panel at all," said Lars-Morten Larsen.
TAGS: Entertainment, Performing art, Touring