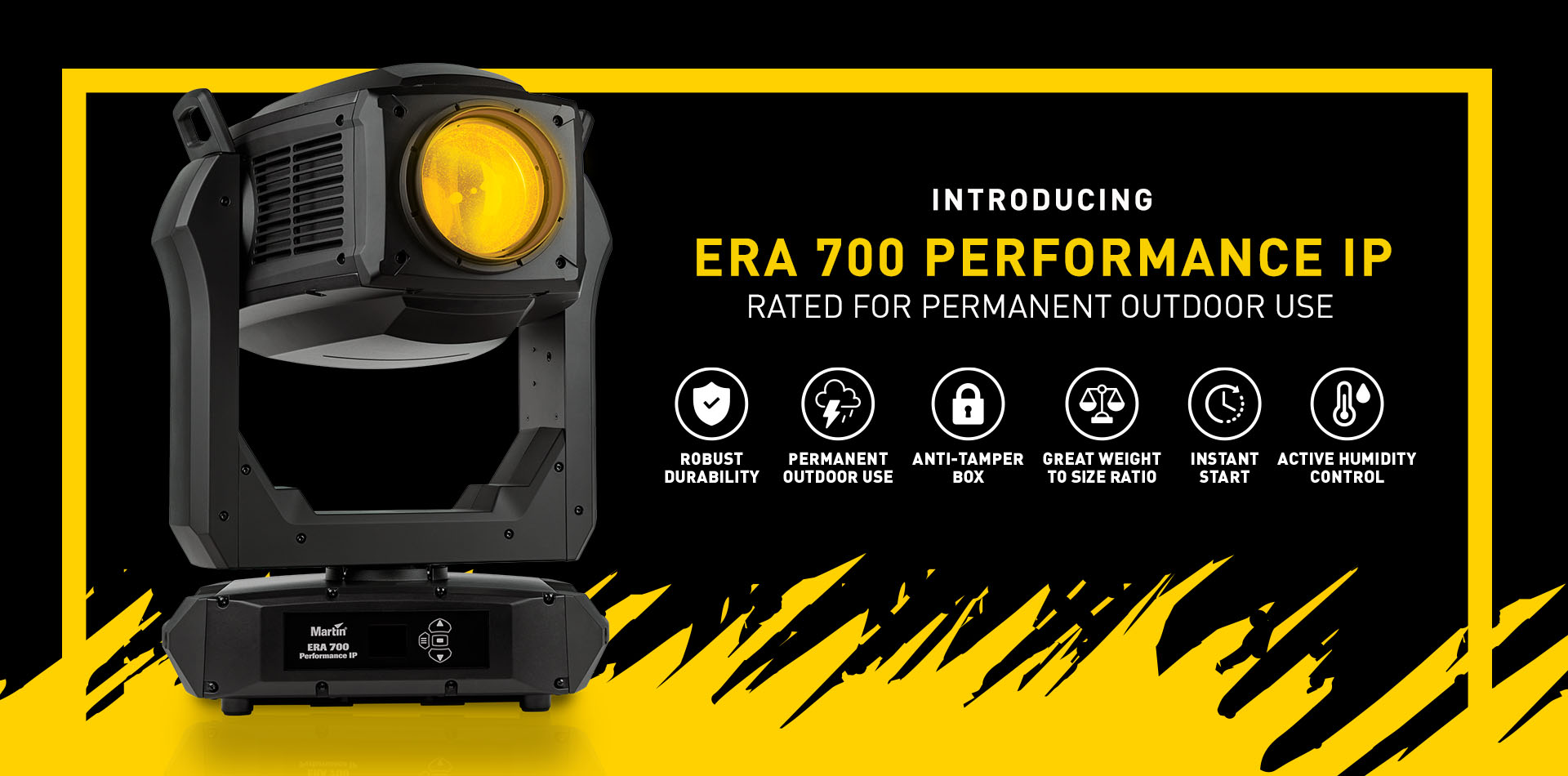 Martin Professional Introduces ERA 700 Performance IP Moving Head for Permanent Outdoor Entertainment
November 21, 2023
NORTHRIDGE, Calif. — HARMAN Professional Solutions, the global leader in audio, lighting, video and control systems, today announced its Martin ERA 700 Performance IP, a state-of-the-art LED-based profile fixture, designed for permanent outdoor entertainment use, to complete Martin's ERA family of fixtures. With its robust construction and innovative features, the ERA 700 Performance IP offers lighting designers and system integrators a comprehensive toolkit for creating immersive and visually stunning lightshows in even the most challenging environments.
The ERA 700 Performance IP is engineered to withstand extreme environmental conditions, making it the perfect choice for larger outdoor shows, rental applications, and architainment installations. With an impressive 26,000 lumens, this fixture delivers the ideal output for captivating outdoor lighting displays. Despite its power, the ERA 700 Performance IP stands at a compact height of only 759mm and weighs below 40kg, providing a lightweight and reliable solution for various outdoor projects.
Designed with durability in mind, the ERA 700 Performance IP can flawlessly operate in a wide range of temperatures and boasts C5M marine-grade salinity protection which shields the fixture against harsh elements, ensuring its longevity and consistent performance. Its IP65+ rating and advanced gasket design provide superior protection against dust and water ingress, eliminating the need for protection domes commonly used in outdoor installations.
In addition to its exceptional performance, the ERA 700 Performance IP prioritizes security and ease of integration with an incorporated anti-tamper box, preventing unauthorized access to power and data, making it an ideal choice for installations in public spaces.
With its compact size, impressive performance, and extensive feature set, the ERA 700 Performance IP is set to revolutionize outdoor lighting. Its durability, serviceability, and innovative technologies make it the preferred choice for professionals seeking high-performance lighting solutions. The fixture is now available for order and is available in black and white finishes to support various outdoor installation needs, including theme parks and cruise ships.
"The ERA 700 Performance IP represents a significant milestone in outdoor lighting technology," said Mark Mercer-Buss, Martin Lighting Product Manager, HARMAN Professional Solutions. "We've listened to the needs of our customers and developed a fixture that combines reliability, versatility, and security. Its robust design and advanced features make it an exceptional choice for both rental and installation markets, offering lighting professionals an outstanding solution for their outdoor projects."
HIGHLIGHTS:
Comprehensive Toolkit and New Gobo Designs
CMYC color mixing, dual gobo wheels, dual prisms, dual frost, new gobos, animation and a full curtain framing system offer the lighting designer a full toolkit to turn heads in any application. New gobo designs ensure that theatrical and architainment applications are all capably supported.
Anti-Tamper Box for Security and Added Outdoor Protection
Prevents someone from removing power/data from the fixture in more public environments while also enhancing environmental protection around power/data connectors and increasing the ingress protection rating to IP66.
All-Weather and C5M Environmental Protection Plus Active Humidity Control
With an IP65+ outdoor rating, this fixture can be used outdoors and can withstand extreme environmental conditions including rain, snow, heat, and dust over long periods of time. C5M marine-grade salinity protection ensures protection in increased saline environments. The active humidity and heating control system monitors humidity levels inside the fixture to ensure the optical system is working optimally and protected from moisture and condensation.
Ease of Service and Easy Access
A clever gasket design and innovations borrowed from Martin Exterior products enable easy access to gobo changes and serviceable items without the use of specialized tools and without damaging the IP protection.
Networking with Fail-Safe Bypass
New for the ERA family, support for Art-Net and sACN capability enables seamless integration into lighting systems with fail-safe bypass technology, ensuring uninterrupted operation and data passthrough, even in the event of a fixture failure to ensure non-interruption of the network stream.
Ideal Weight and Size Plus Seamless Aesthetics
Rental/touring and installation applications require IP66 fixtures to be lighter and more compact, and the ERA 700 Performance IP comes in below 40kg and measures just 759mm in height. Available in white and black, the ERA 700 Performance IP blends seamlessly in many outdoor installations, including theme parks and cruise ships.
Additional Details: For complete details and specifications, please visit: martin.com/products/era-700-performance-ip as well as exploring the full range of Martin ERA fixtures: