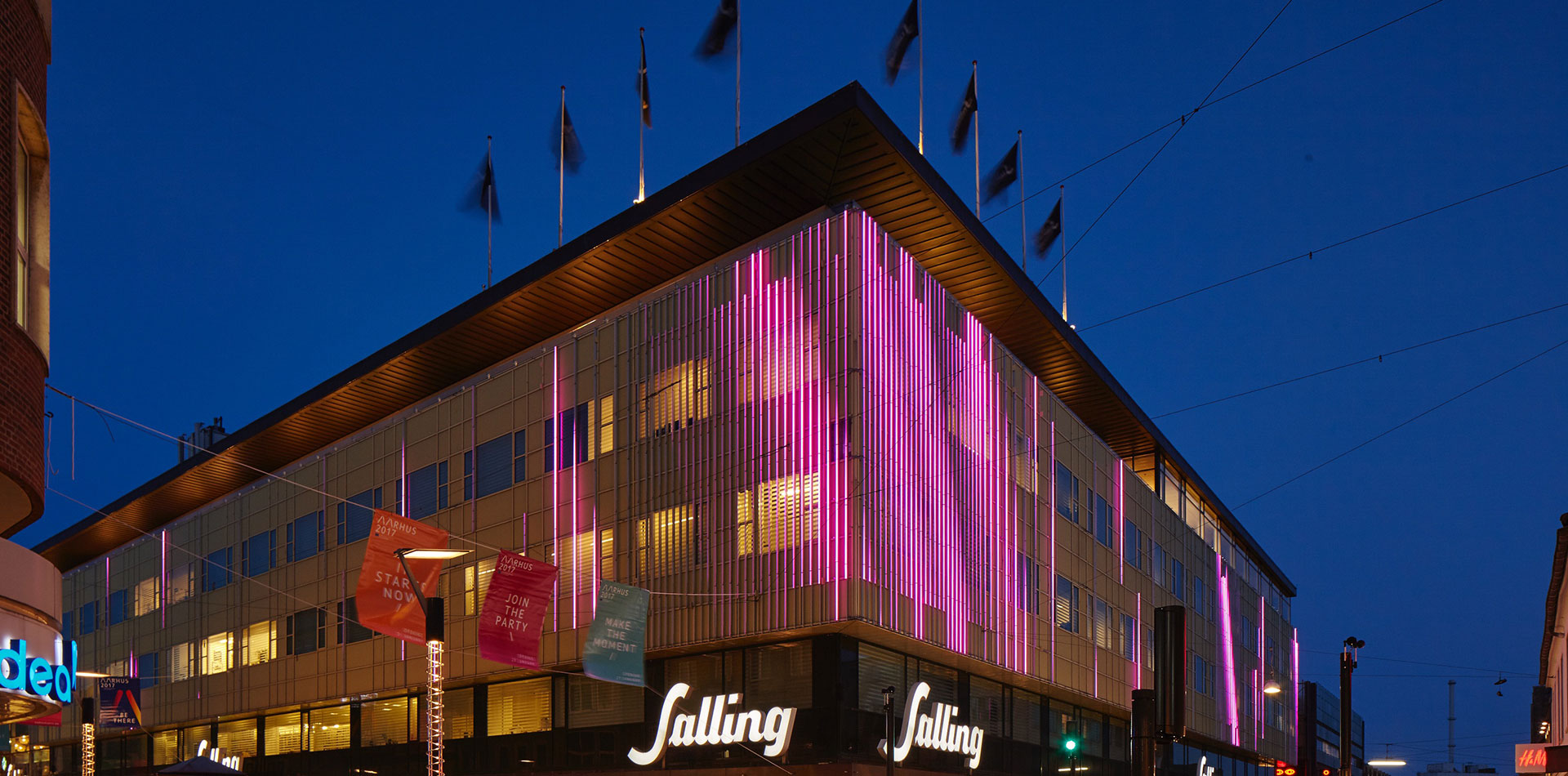 Salling Department Stores Elevate the Shopping Experience with Martin By HARMAN Interactive Media Facades
October 20, 2017
1200+ Martin Exterior PixLine 20 convert department store facades into artistic, urban fix points that support corporate branding and engage passersby.
"We wanted a permanent facade lighting solution for our two department stores to raise awareness in the cityscape which at the same time would allow us to interact with passersby"says Salling Design Manager, Jens Severin. Via a total of 1241 Martin Exterior PixLine 20 run by two P3 050 System Controllers and 24 P3 PowerPort 1500, Salling, Denmark's equivalent to Macy's or Selfridges, excelled in optimizing the facades of their two large department stores to lead the way in contemporary architectural media design that facilitates community interaction and involvement.
When designing a media architecture project, its success is not about technology, square meters, LED pricing or for that matter how much power it consumes. It's about urban planners, designers and how the entire process is integrated from ideation to final delivery.
"Media architecture is the next layer of city branding" - Stephen D. Willacy, Chief City Architect, City of Aarhus
Over the years, Martin by HARMAN has built a considerable know-how in facilitating and customizing partner-driven architectural lighting projects of all sizes, from huge Middle Eastern mosques to sports stadiums and department stores. We are not just a manufacturer with a price tag on our products. We are a partner delivering in all phases of a project, teaming up with all stakeholders throughout such processes, including local authorities and the professional lighting design community. A direct involvement with end-users and designers often sparks ideas for product optimization and new ways to approach a project that has earned us our position as a highly respected partner.
Community engagement
The ability to engage with customers has become increasingly important, and the Salling Department Store media facade is a great example of how retailers and other organizations can integrate media architecture into urban spaces—with truly cool results. "We created an interactive element that allows people to contribute to the content on the facade by drawing on their smartphone and have it represented realtime on the facade" says Rune Nielsen, Partner PhD, Architect MAA, Kollision Design Office. The solution demonstrates how an interactive facade offers a unique way to make a business a visual player by tapping into cultural events and interacting with the local community, and also raises the bar in urban, corporate branding.
Martin Exterior PixLine
The Martin Exterior PixLine is a fully weatherized linear LED video fixture for media facades and creative installations. The Exterior PixLine can be combined with a wide variety of lenses and diffusers for the right look for every application. The Exterior PixLine is driven by the Martin P3 System Controller family for easy setup and video display, and it is also backwards compatible with DMX for smaller setups. The fixtures are fully customizable in terms of length and color to match every installation requirement, while the power source is hidden.
TAGS: Architectural, retail