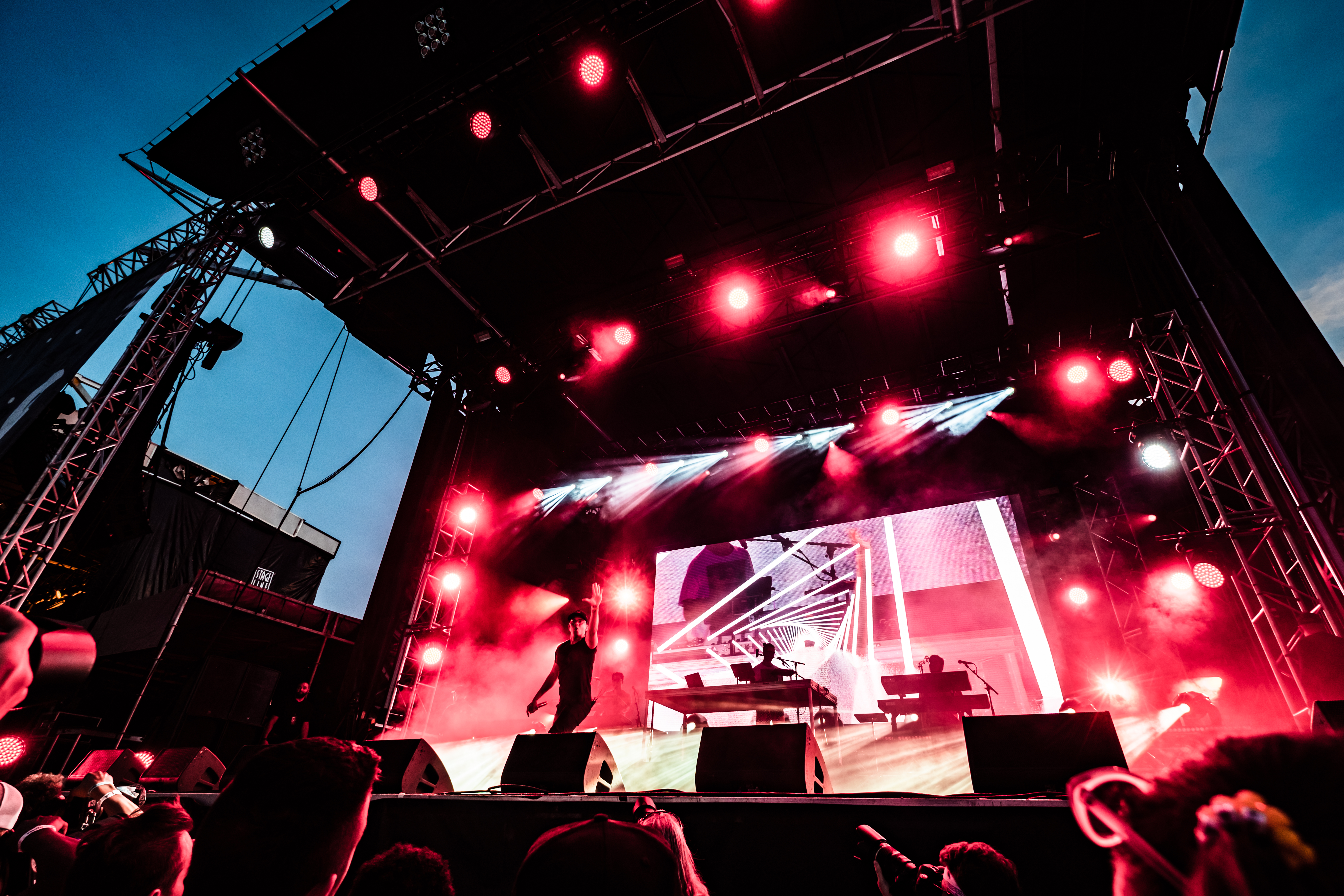 Slamhammer Lights Up Soundset Music Festival with HARMAN Professional Solutions
November 19, 2018
SAINT PAUL, Minn—Slamhammer recently deployed a Martin by HARMAN Professional Solutions lighting solution at Soundset Music Festival for performances by Logic, Migos, Wu-Tang Clan and more.
Hosted by Rhymesayers Entertainment, Soundset is the premier rap and hip-hop festival in Minnesota. Featuring live music, breakdancing, street art and skateboarding, Soundset is an all-day event that takes place on the Minnesota State Fairgrounds and averages 30,000 guests annually. With performances from over 50 artists across five stages, Soundset wanted to make their 11th year bigger and better than ever. In order to provide legendary lighting for some of the most popular artists in the world, Soundset hired Slamhammer to help select a set of fixtures capable cutting through the sunlight, enduring through the rain, and creating dazzling lighting displays in the dark. Slamhammer assembled a world-class Martin lighting solution that allowed for quick deployment and versatile lighting options on both stages.
"Soundset had eight acts per stage with varying genres, and we had to work to satisfy everyone's lighting needs," said Peter Skujins, President and Owner of Slamhammer "Since most of the performances are during the daytime, we needed fixtures that could create sharp, visible beams in broad daylight—but we also needed a strong front wash for performances after sundown. There's been a ton of excitement about the new Martin fixtures, so they were the obvious choice."
Slamhammer deployed mirrored lighting rigs on both main stages with MAC Quantum Wash fixtures downstage, MAC Quantum Wash and MAC Viper Profile, and Atomic 3000 fixtures mid-stage, and MAC Axiom Hybrid and MAC Quantum Wash and MAC Viper Profile fixtures upstage. Slamhammer also deployed MAC Aura and Quantum Profile fixtures on the Atmosphere & Friends Stage. The MAC series fixtures pack a surprisingly powerful punch into a small package. Featuring LED bulbs powerful enough to compete with high-intensity discharge lamps, the MAC series fixtures are designed to consume less power and generate less heat than traditional fixtures. Most importantly, they provide a wide assortment of dynamic lighting effects versatile enough to meet the needs of multiple lighting designers during a busy festival.
"A lot of acts bring their own lighting designers so we needed a rig that could accommodate anything they might want to use," said Marty Lesmeister, Lighting Department Manager at Slamhammer "All of the Martin fixtures we used went over really well with everyone. Even during the daytime those hybrid fixtures can create a beam that just cuts right through a small amount of haze—it barely takes anything to make them pop."
Soundset Festival celebrated their 11th with performers, crew and guests from all over the US and the world—including Australia, Brazil, Canada, Germany, India, Mexico, Norway, New Zealand, Philippines, Poland, Switzerland, Taiwan, United Kingdom, and more.
ABOUT HARMAN
HARMAN (harman.com) designs and engineers connected products and solutions for automakers, consumers, and enterprises worldwide, including connected car systems, audio and visual products, enterprise automation solutions; and services supporting the Internet of Things. With leading brands including AKG®, Harman Kardon®, Infinity®, JBL®, Lexicon®, Mark Levinson® and Revel®, HARMAN is admired by audiophiles, musicians and the entertainment venues where they perform around the world. More than 50 million automobiles on the road today are equipped with HARMAN audio and connected car systems. Our software services power billions of mobile devices and systems that are connected, integrated and secure across all platforms, from work and home to car and mobile. HARMAN has a workforce of approximately 30,000 people across the Americas, Europe, and Asia. In March 2017, HARMAN became a wholly-owned subsidiary of Samsung Electronics Co., Ltd.
David Glaubke
Director, Public Relations
HARMAN Professional Solutions
© 2018 HARMAN International Industries, Incorporated. All rights reserved. Harman Kardon, Infinity, JBL, Lexicon and Mark Levinson are trademarks of HARMAN International Industries, Incorporated, registered in the United States and/or other countries. AKG is a trademark of AKG Acoustics GmbH, registered in the United States and/or other countries. Features, specifications and appearance are subject to change without notice.
TAGS: Entertainment, Festival