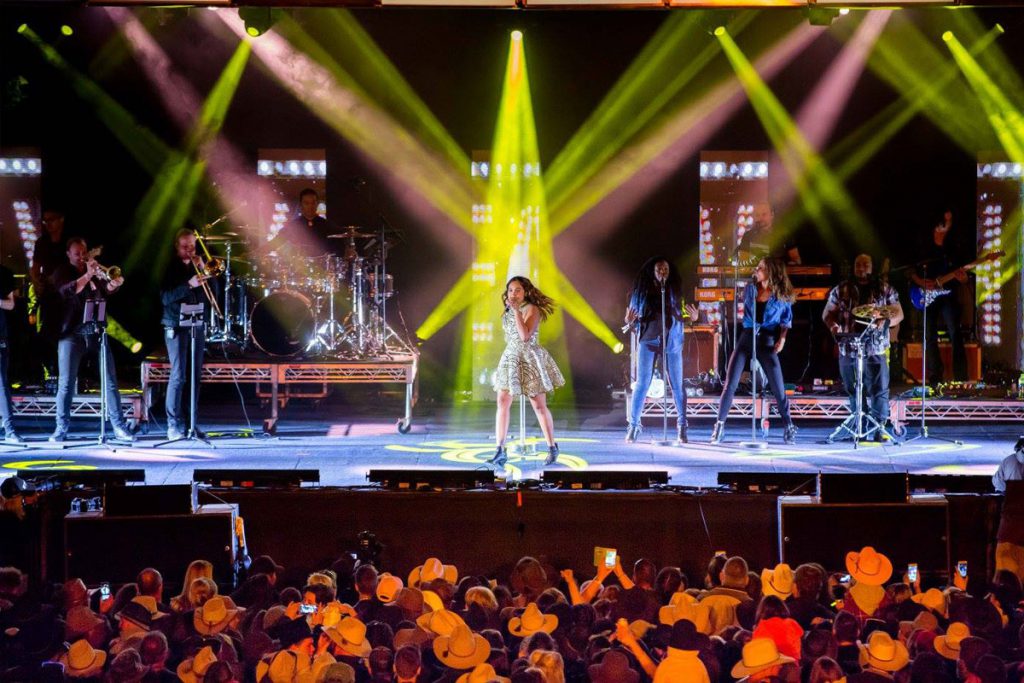 NW Group Rises Above the Competition with HARMAN Professional Solutions
November 18, 2018
MELBOURNE, Australia—NW Group recently bolstered its lighting inventory with state-of-the-art Martin by HARMAN lighting fixtures, provided by Show Technology.
With warehouses located in Sydney, Melbourne, Brisbane, Adelaide, Perth, Auckland and Wellington, NW Group is a leading provider of audio, video and lighting services across Australia and New Zealand. Brand partners Norwest and Haycom represent NW Group in Australia while Oceania and Spyglass operate in New Zealand. NW Group provides event planners and promoters with premier live production services for a wide range of high profile events, including concerts, festivals, corporate events and international sporting competitions, and provided audio services to the opening and closing ceremonies of the 2000 summer Olympic Games, and three out of four summer Olympics and countless other international events since. Most recently, NW Group provided full sound and lighting services for The Invictus Games, held in Sydney in October 2018
In order to stay ahead of the curve in the live concert and touring markets, NW Group decided to upgrade its already impressive inventory of lighting solutions with new additions from Martin. With help from local supplier Show Technology, NW Group expanded its arsenal of industry leading solutions with MAC Aura XB and MAC Quantum Profile fixtures.
"We've used Quantum Wash, Viper and Aura fixtures with great success for years," said Graeme Whitehouse, General Manager, NW Group. "We were in the market for next-generation fixtures that could deliver rapid movement and beautiful color mixing during high profile stage performances. After testing numerous fixtures with local supplier Show Technology, we decided to go with Martin MAC Aura XB washes and MAC Quantum Profiles. We're extremely happy with our choice—the Aura XB and Quantum Profiles enable us to provide even more value to our clients in the arts and entertainment world as well as the corporate arena. As we're now expanding into "in-house" venue services, such as Brisbane's iconic City Hall, we're continuing to demonstrate the versatility of these fixtures," said Graeme.
Apart from being a lightweight, compact LED wash light, the new MAC Aura XB integrates new features, improved brightness, a newly refined color mixing system and an optimized lens design which produces tighter beams and more balanced washes. The MAC Aura XB's highly efficient performance and patented Eye-Candy Aura Effect helps NW Group provide visually impressive lighting rigs without requiring a lot of AC power.
In addition to new MAC Aura XB fixtures, NW Group purchased a number of new MAC Quantum Profile fixtures to provide events with high-quality white light, smooth CMY color mixing and crisp mid-air projections. The MAC Quantum Profile also enables NW Group's team to utilize Martin's trademark Animotion™ FX system and produce extraordinary beam animations and stunning gobo projections.
"NW Group was looking for state-of-the-art lighting fixtures that would provide high-quality wash and beam effects on any stage," said Harold Hassapis, General Manager at Show Technology. "We were proud to recommend the Aura XB and Quantum Profiles, as they are perfectly suited for a variety of applications while delivering versatile looks and reliable performance. HARMAN Professional Solutions' innovative designs and technical support ensure that NW Group's new Martin fixtures will deliver incredible lighting experiences for their clients for many years."
NW Group's new MAC Quantum Profile fixtures enable them to achieve a mix of breakup gobo, aerial and beam looks to enhance any event. The team at NW Group was especially impressed with the fixture's speed of motion, rich palette of colors and consistent photometric performance via LED technology. Additionally, NW Group is pleased that their new Martin products offer easy rigging, intuitive configuration and exceptionally reliable performance under the harshest conditions.
"The Quantum Profile adds an extra layer of beam animation to our plotted looks and the Aura XB performs so well, it's now our go-to stage wash fixture," said James Dee, Account Manager, NW Group. "The Aura XB also features an innovative zoom and lens design that allows it to deliver useful tight beam looks you wouldn't expect from a wash fixture. It is a very impressive and extremely bright LED fixture."
"We are proud to provide NW Group with effective lighting solutions that enhance the quality of their live event productions," said Ramesh Jayaraman, VP & GM, HARMAN Professional Solutions, APAC. "We thank NW Group for their continued patronage, and we thank Show Technology for keeping them up-to-date with the latest solutions while providing exceptional customer service to the last detail."
ABOUT HARMAN
HARMAN (harman.com) designs and engineers connected products and solutions for automakers, consumers, and enterprises worldwide, including connected car systems, audio and visual products, enterprise automation solutions; and services supporting the Internet of Things. With leading brands including AKG®, Harman Kardon®, Infinity®, JBL®, Lexicon®, Mark Levinson® and Revel®, HARMAN is admired by audiophiles, musicians and the entertainment venues where they perform around the world. More than 50 million automobiles on the road today are equipped with HARMAN audio and connected car systems. Our software services power billions of mobile devices and systems that are connected, integrated and secure across all platforms, from work and home to car and mobile. HARMAN has a workforce of approximately 30,000 people across the Americas, Europe, and Asia. In March 2017, HARMAN became a wholly-owned subsidiary of Samsung Electronics Co., Ltd.
GLOBAL
David Glaubke
Director, Public Relations
HARMAN Professional Solutions
APAC
RV Ramachandran
Marketing Director - Asia Pacific Harman Professional Solutions
+65-6870-5000 Office
+65-9146-2464 Mobile
© 2018 HARMAN International Industries, Incorporated. All rights reserved. Harman Kardon, Infinity, JBL, Lexicon and Mark Levinson are trademarks of HARMAN International Industries, Incorporated, registered in the United States and/or other countries. AKG is a trademark of AKG Acoustics GmbH, registered in the United States and/or other countries. Features, specifications and appearance are subject to change without notice.
TAGS: Entertainment, Touring