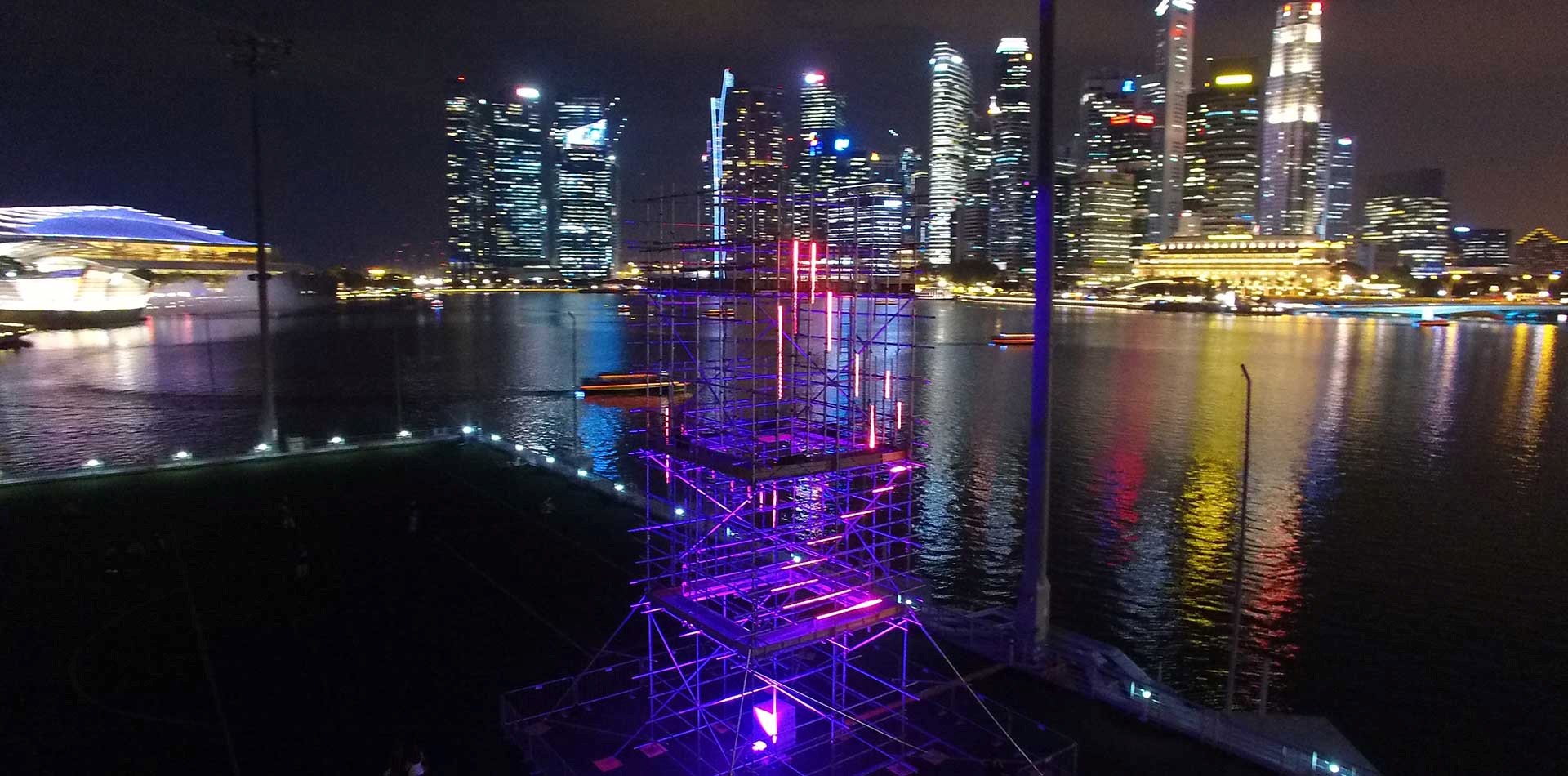 Martin by HARMAN Illuminates SONICtower Installation at Singapore's i Light Marina Bay 2016
June 21, 2016
Martin Professional Singapore provides striking visual support for Sound Artist ZUL's mixed media installation at Asia's leading sustainable light arts festival
Martin by HARMAN lighting solutions were recently used as the creative lighting components for SONICtower, an outdoor art installation by Sound Media Artist Zulkifle Mahmod (also known as ZUL). Martin's VDO Sceptron 10 and Exterior Wash 310 were featured during i Light Marina Bay, Asia's leading sustainable light art festival, which promotes environmentally responsible behavior for a sustainable future. Every aspect of the annual festival adopts a more effective and efficient management of resources to meet its commitment to the environment—and the choice of energy-conserving, high-impact Martin LEDs perfectly fulfilled the festival's criteria.
At the forefront of a generation of sound-media artists in Singapore, ZUL has earned a reputation for integrating 3D forms with "sound constructions" and "soundscapes," often crossing genres and featuring collaborations with other artists. Marked by diversity, the artist has adopted a multi-disciplinary/multi-genre approach that includes drawings, prints, sculptures and ready-mades.
ZUL's SONICtower installation was an expansion of "Alice, Did You Hear That?" – a sound installation commissioned for Singapore: Inside Out in 2015 and inspired by Lewis Carol's Alice in Wonderland and Spaces Speak, Are You Listening?, a book by Barry Blesser and Linda-Ruth Salter that explores soundscapes in the urban environment.
According to the artist's statement, SONICtower comprised "four zones with a total of 320 solenoids and LED lights to create a rhythmic sound and lightscape" within the confines of a four-story scaffold, inviting visitors to "listen and discover unique compositions as they explore different pockets of the artwork." Each zone uses 64 solenoids controlled by one microcontroller. The solenoids hit on the surface of the scaffoldings and the LED lights glow by programming them in a composition format. Each composition lasts about 10–15 minutes and then continues on a loop. The structure becomes "alive and playful."
The Martin product array showcased in the SONICtower included a mix of VDO Sceptron 10 outdoor rated LED video fixtures (30 each in 320 mm and 1000 mm), powered by a P3 PowerPort 1500™ integrated power and data processor, all coordinated with a P3-200 System Controller. The outdoor lighting system included a Martin Exterior Wash 310 quad color LED (RGBW) programmed with a M2GO controller.
"I had a great time working with the Martin lighting equipment," said ZUL. "There are a lot of possibilities to explore further in the future!"
ABOUT i LIGHT MARINA BAY 2016Returning for its fourth edition, i Light Marina Bay 2016 featured 25 innovative and environmentally sustainable light art installations by creative talents from around the world. Through the use of intelligent lighting, the Marina Bay waterfront is transformed each year into a kaleidoscopic display of light, color, shadows and play for people of all ages to enjoy. Participating artists incorporate the use of recyclable materials and adopt energy-efficient lighting technologies in the creation of their stunning light art installations.
TAGS: Architectural, Art Piece